Lawn Spraying in Melbourne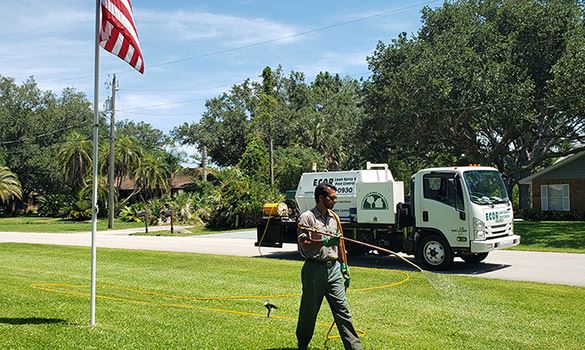 Every lawn is different. That's why we provide a comprehensive lawn evaluation along with our recommendation for lawn spray and fertilizer solutions that meet your individual lawn's needs.
Don't Take Our Word For It
Hear It From Our Happy Customers
"I have used Ecor for many years, just as my parents and sister do."

- Lisa T.

"Ecor has been doing my quarterly treatment for all exterior lawn and shrub treatments for over 10 years."

- Tony B.

"I'm so pleased with Ecor."

- Stephie Smith

"I have been using Ecor for over 30 years now."

- Susie A.

"Thank you so much"

- Elain P.

"Rob (manager) is the best."

- Andre A.
We comply with local fertilizer ordinances year-round. From October through May, our lawn service programs contain 50% slow release nitrogen sources. During the summer months, our nutrition programs provide organic root stimulants and micronutrient supplements.
Lawn Service Programs
We offer three levels of lawn service:
Premium Service
Our most comprehensive program provides treatments every 6 weeks (8 applications per year) to include nutrition, iron, insect control, and broadleaf weed control. Additional benefits include coverage for grubs and fungus along with a retreatment guarantee between scheduled services.
Basic Service
Our basic level program provides every other month treatments (6 applications per year) with nutrition, insecticide, iron, and broadleaf weed control with a retreatment guarantee for these applications between scheduled services.
Single Service
Single applications are done upon request. Limited 30-day retreatment guarantee depending on the application made. Customers may call to schedule as needed.

We offer additional optional treatments to control:
Fleas
Fungus & Disease
Grubs
TopChoice Once-A-Year Fire Ant Control
Vegetation Kill for Sod Installation
Top Dressing with an Organic Soil Conditioner
Soil Testing
Why Choose Us?
Personalized Service For Every Customer
We proudly offer old-fashioned service along with strong attention to detail for every project.

We can customize our residential and commercial property programs to meet your budgetary and scheduling needs.

We strive to accommodate quick, next-day service whenever possible for your convenience.

As a third generation family-owned and operated business, our team focuses on treating you right.
Ready to Get Started?
Call
(321) 204-2084

or contact us for an estimate.