Shrub & Tree Care in Melbourne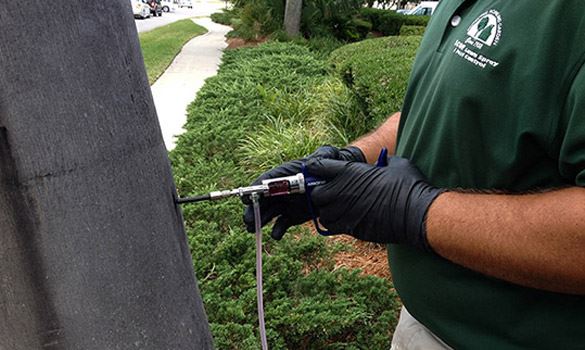 After a comprehensive evaluation of your shrubs and trees, we will provide a plan specific to your needs. Custom programs range from single services to comprehensive quarterly service programs with a retreatment guarantee.
Don't Take Our Word For It
Hear It From Our Happy Customers
"I have used Ecor for many years, just as my parents and sister do."

- Lisa T.

"Ecor has been doing my quarterly treatment for all exterior lawn and shrub treatments for over 10 years."

- Tony B.

"I'm so pleased with Ecor."

- Stephie Smith

"I have been using Ecor for over 30 years now."

- Susie A.

"Thank you so much"

- Elain P.

"Rob (manager) is the best."

- Andre A.
Depending on the recommendations for your shrub and tree care, we offer:
Fertilization and Micronutrients
Damaging Insect Control
Foliar Fungus Control Vigor
We are a leading provider of ArborJet® trunk injections. This system is a highly efficient and eco-friendly alternative to foliar sprays and soil injections. The materials are placed directly into the vascular system of the tree, immediately available for uptake. We can treat many different problems in palms or hardwoods ranging from insects to disease to nutrient deficiencies.
Ready to get started? Contact ECOR Lawn Spray & Pest Control in Melbourne at (321) 204-2084 today!
PalmJet for fertilization and micronutrient deficiencies
ImaJet for weevils and whitefly
TreeAge for borers and the royal palm bug, which provides two years of control
PhosphoJet for fusarium and thielaviopsis suppression
OTC for bacteria and phytoplasma diseases like Lethal Bronzing Disease (LBD) in Phoenix palms.
Learn more about the benefits of Arborjet's injection technology to provide long-term health for trees and palms.
Ready to get started? Contact ECOR Lawn Spray & Pest Control in Melbourne at (321) 204-2084 today!

Why Choose Us?
Personalized Service For Every Customer
We proudly offer old-fashioned service along with strong attention to detail for every project.

We can customize our residential and commercial property programs to meet your budgetary and scheduling needs.

We strive to accommodate quick, next-day service whenever possible for your convenience.

As a third generation family-owned and operated business, our team focuses on treating you right.
Ready to Get Started?
Call
(321) 204-2084

or contact us for an estimate.