Pest Control in Melbourne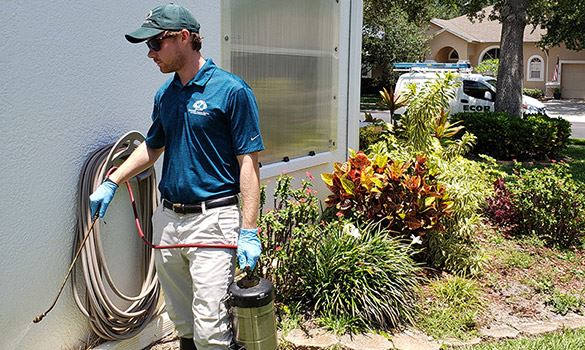 Season after season, your home will be exposed to different types of pests – roaches, ants, spiders and rodents will all be trying to make a home inside of yours. At ECOR Lawn Spray and Pest Control, we start protecting your home or business by conducting a thorough inspection with a focus on areas that attract pests or allow them access into your home or structure. We'll offer you advice to control pests through preventative steps and determine an integrated pest management program to best serve your needs.
Our basic pest control program keeps chemicals and pests out of your building. By placing baits and residual sprays in focused areas, we control unwanted pests before they enter your home or structure. Customers set up on one of our programs are provided with a re-treatment guarantee between services for all covered pests.
Ready to get started? Contact ECOR Lawn Spray & Pest Control in Melbourne at (321) 204-2084 today!

Don't Take Our Word For It
Hear It From Our Happy Customers
"I have used Ecor for many years, just as my parents and sister do."

- Lisa T.

"Ecor has been doing my quarterly treatment for all exterior lawn and shrub treatments for over 10 years."

- Tony B.

"I'm so pleased with Ecor."

- Stephie Smith

"I have been using Ecor for over 30 years now."

- Susie A.

"Thank you so much"

- Elain P.

"Rob (manager) is the best."

- Andre A.
Roaches
Ants (carpenter ants are an optional service)
Spiders
Earwigs
Millipedes
Silverfish
Optional Service Programs
Carpenter Ants
Fleas & Ticks
Mosquitoes
Rodent Control
Wildlife Removal
Feral Bee Control
Ready to get started? Contact ECOR Lawn Spray & Pest Control in Melbourne at (321) 204-2084 today!
MosquitoGARD
We offer our MoquitoGARD (General Area Reduction and Deployment) program to reduce biting mosquito populations on your property for 90 days. The program includes a fogging and placement of mosquito breeding control traps on the initial treatment. We follow up in 45 days to check the traps and provide another knock down fogging to suppress mosquito populations around your property.
Rodent Control/Wildlife Removal
After a thorough inspection to determine which species we're dealing with, we'll create an effective program to keep your home rodent-free. These programs include solutions for rats, mice, and raccoons.
Bee Removal
Feral bees can pose a problem to your outdoor areas. If you discover a bee swarm or hive, it is important that you do not disturb it and contact us. We have the expertise and equipment to safely remove the bees from your property. We have been trained by the University of Florida and can be found on the State of Florida Department of Agriculture and Consumer Services "Bee Removal or Eradication Contact List".
Why Choose Us?
Personalized Service For Every Customer
We proudly offer old-fashioned service along with strong attention to detail for every project.

We can customize our residential and commercial property programs to meet your budgetary and scheduling needs.

We strive to accommodate quick, next-day service whenever possible for your convenience.

As a third generation family-owned and operated business, our team focuses on treating you right.
Ready to Get Started?
Call
(321) 204-2084

or contact us for an estimate.